Apostolic Informer

The Apostolic Informer is a quarterly outlook of information for the Apostolic Church of Jesus, Inc., in our progress that will assist our Membership, Fellowship and Friendship Churches stay engage with information and activities concerning the National Church Policies, Procedures & Mandates of our Chief Apostle and Executive Board. The Apostolic Informer will help guide us in our stance for Apostolic Truth.
It will also keep us informed and up to date with current issues around the United States and the World. In addition, to information that affects the Church as a whole.
CHURCH QUATERLY ANNOUNCEMENTS
Praise God from whom all blessings flow. Praise Him, Father, Son, and Holy Ghost!

November 30 – December 2, 2017.
Psalm 133:1-2 (KJV) Behold, how good and how pleasant it is for brethren to dwell together in unity! It is like the precious ointment upon the head, that ran down upon the beard, even Aaron's beard: that went down to the skirts of his garments;
The Announcements are as follows:
The Lunching of the ACOJ Operation Restoration Nehemiah Project will begin on January 6, 2018 in Vero Beach, Florida. More information will follow. We are asking all that can and will to Please partake in this venue. Also, we are now recruiting talents of mastery in areas pertaining to construction and remodeling. All talents as well as donations are welcome.
The Annual Celebration of our Chief Apostle, Dr. Preston Rolle Sr. Appreciation service will convene on the 3rd Saturday, which is, January 20th, 2018 and the Central, Florida District will be in Charge. More information will follow.
The Annual Men's Conference will convene on March 15,16 &17, 2018 at the ACOJ Praise & Worship Center, Ft Pierce FL where Pastor Ezekiel Rhyant, Jr., is the Host Pastor
Our First Annual Departmental Meeting was a great success and we will like to advise that there will be more Departmental Head and Event Meetings coming up in the near future throughout the year. All Churches will be notified on dates. You can as you can log on to the website www.theacojinc.org.
General Visit's will be conducted in the Month of February & March. A calendar schedule for the Chief Apostle for February and the General Mother for the Month of March will be sent to all Membered Churches by January 10, which will include all mission churches as well.
Finally, to all the ACOJ Member's at large. Please continue to support the Operation Payoff. The program is moving in the right direction. This year we are asking all members to report in the General Assembly $79.00. All proceeds will go to pay down debt.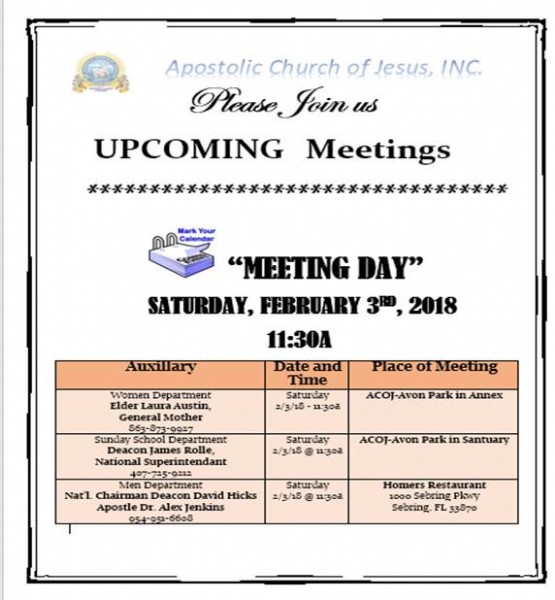 This concludes our announcements for the Quarter! Thank you!
Before you go. Please take the survey below!